Jednoduché online riešenie pre zložité HR
Sloneek je moderný all-in-one HR systém, ktorý obsahuje všetko, čo potrebujete k správe celého cyklu zamestnancov i externistov.
Ušetrite až 20 hodín týždenne na HR procesoch a administratíve.
14 dní zdarma
Bez platobnej karty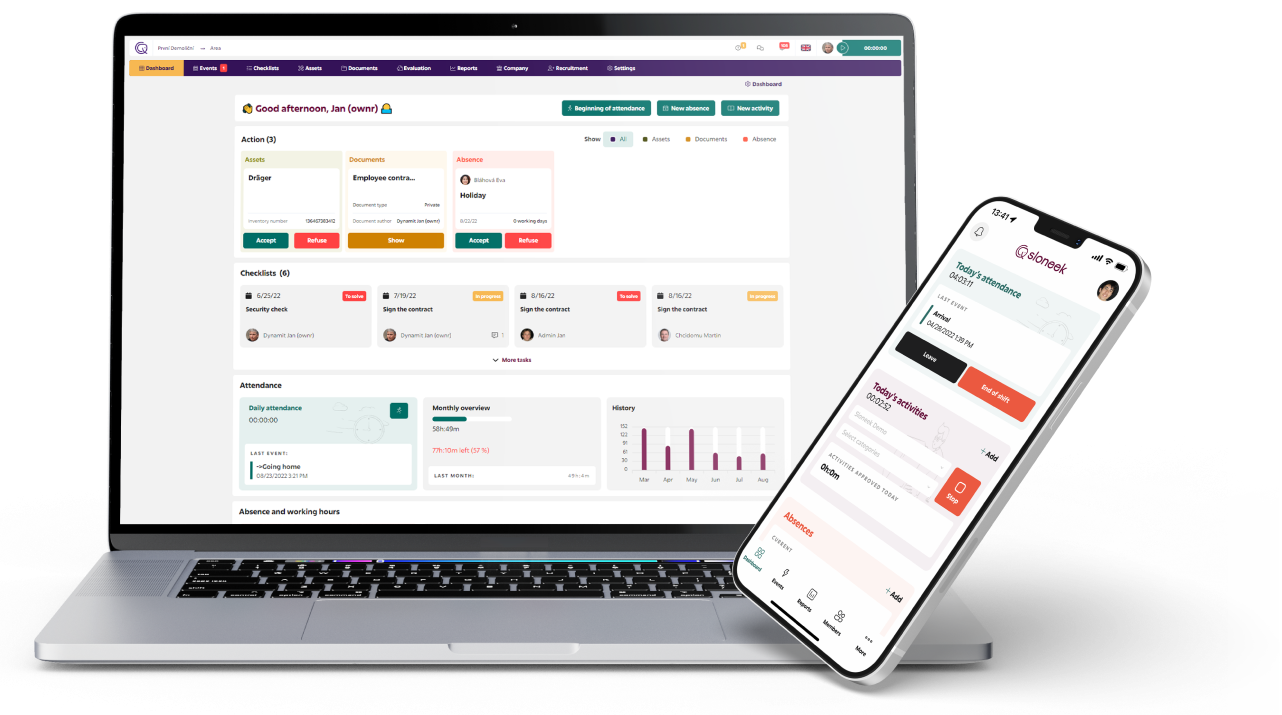 Dokončite registráciu ZDARMA
Výhody registrácie
Bez nutnosti vloženia platobnej karty
14 dní ZDARMA a potom sa môžete rozhodnúť
7 z 10 užívateľov sa pre Sloneeka rozhodne
30 minút a základné nastavenie je hotové
Overené recenzie s hodnotením 4.5 z 5
Získajte prehľad o Vašich ľuďoch
Získajte prehľad o Vašich ľuďoch
Zamestnanecká zložka
Organizačná štruktúra
Evidencia dochádzky
Schvaľovanie absencií
Time tracking
Podpisovanie dokumentov
Evidencia pracovných pomôcok
Prečo si vybrať Sloneek?
Rýchlo ho zavediete a ešte rýchlejšie si ho obľúbite.
Fast deployment
80% of mid-size businesses have basic functionality set up within three days from importing users. It usually takes no more than two weeks to fully implement all modules.
Friendly interface
End users need no training. Even so, the application provides contextual help, instructional videos and rich knowledge base. We are happy to train administrators if needed.
Perfect support
We pride ourselves on our personal approach to user support. We are happy to help you at any time.
Čo o nás hovoria naši zákazníci?
Pridajte sa k viac ako 2.000 spokojným zákazníkom
"Sloneek pro mě osobně byl přínosem v tom, že mi hodně zjednodušil práci ve chvíli kdy připravuji podklady ke mzdám. Využívám měsíční reporty docházky. V integrovaném kalendáři vidím souběh docházky a HO. Celkově Sloneek skvěle zapadá do celkové digitalizace naší školy."
Lucie Smetanová
HR manager | Montessori Andílek
"Sloneek sa stal súčasťou tímu. Vidíme, kto, čo a kedy robí, a môžeme s ním ľahko pracovať a plánovať."
Aleš KOZÁK
riaditeľ | Institut pro památky a kulturu
"Sloneek vniesol do našej práce poriadok a prehľad ."
Lukáš Hejna
riaditeľ fundraisingu | Nadace Via
"Vďaka službe Sloneek má každý v reálnom čase prehľad o pohybe a plánoch kolegov. Systém je tiež dostatočne flexibilný na to, aby bolo možné sledovať prácu stážistov a dobrovoľníkov, bez ktorých by sa naše aktivity nezaobišli."
Pavla Gomba
Výkonná riaditeľka | Český výbor pro UNICEF
"Konečne máme všetky naše dokumenty v jednej online databáze! Na aplikácii si najviac cením to, že je naozaj užívateľsky prívetivá, zákaznícka podpora je naozaj výnimočná, vždy rýchla a nápomocná. Veľmi ma teší, že väčšina funkcií je mi jasná, a ak nie, je tu chat a človek pripravený pomôcť!"
Jitka Zmítková
Head of HR | Loono
"Sloneek nám pomohol veľmi rýchlo zaviesť prehľad a poriadok do HR administratívy našej veľmi rýchlo rastúcej firmy. Keď sme si s niečím nevedeli rady, support tím Sloneeka ochotne a rýchlo pomohol. Oceňujeme aj neustále vylepšovanie aplikácie, aby lepšie a flexibilnejšie odpovedala na požiadavky veľmi dynamických zmien, ktorými u nás žijeme :)"
Josef Šachta
CEO & co-founder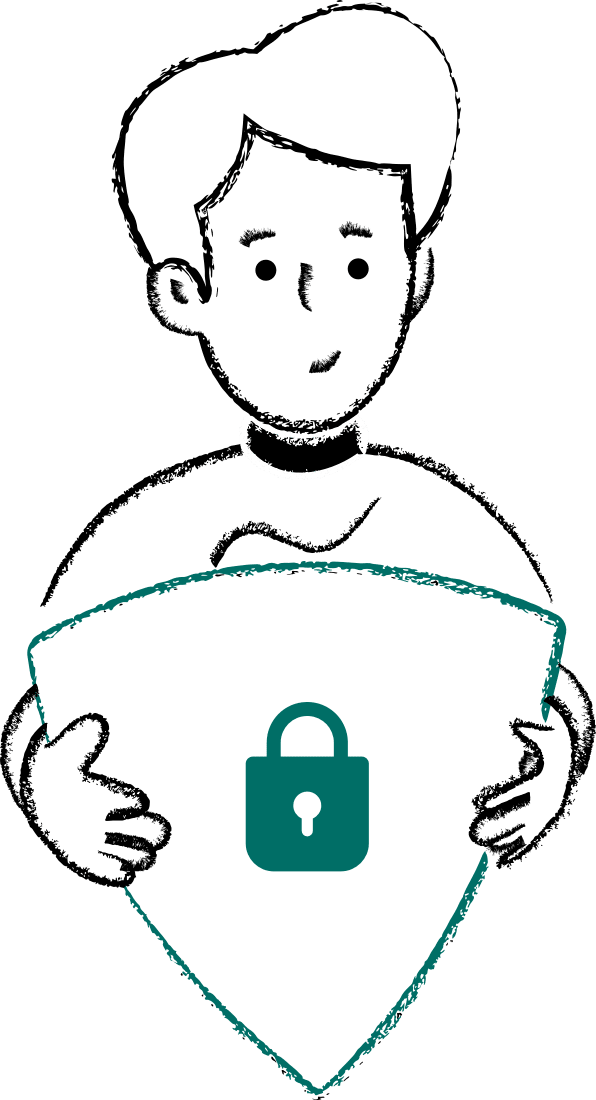 Vaše dáta sú v Sloneekovi v bezpečí
V Sloneekovi veľmi dbáme na to, aby všetky užívateľské dáta boli uchovávané v súlade s najmodernejšími bezpečnostnými štandardmi. Používame najkvalitnejšiu dostupnú cloudovú infraštruktúru od AWS (Amazon Web Services), ktorá garantuje odolnosť proti úniku dát a mimoriadne vysokú dostupnosť služieb.
Vysoká dostupnosť
Kvalitná infraštruktúra a kontinuálny vývoj poskytujú dostupnosť aplikácie a dochádzkového terminálu na 99,999%
Denné zálohy dát
Každý deň zálohujeme všetky dáta proti strate a poškodeniu.
Kompatibilita s GDPR
Aplikácia aj spoločnosť je plne kompatibilná s GDPR.
Ľudia
Spravovanie a riadenie ľudských zdrojov je intuitívne, zábavné a veľmi jednoduché.
Automatizácia onboardingu zamestnancov
Organizačná a manažérska štruktúra
Osobné zložky zamestnancov
Schvaľovanie workflows
Telefónny zoznam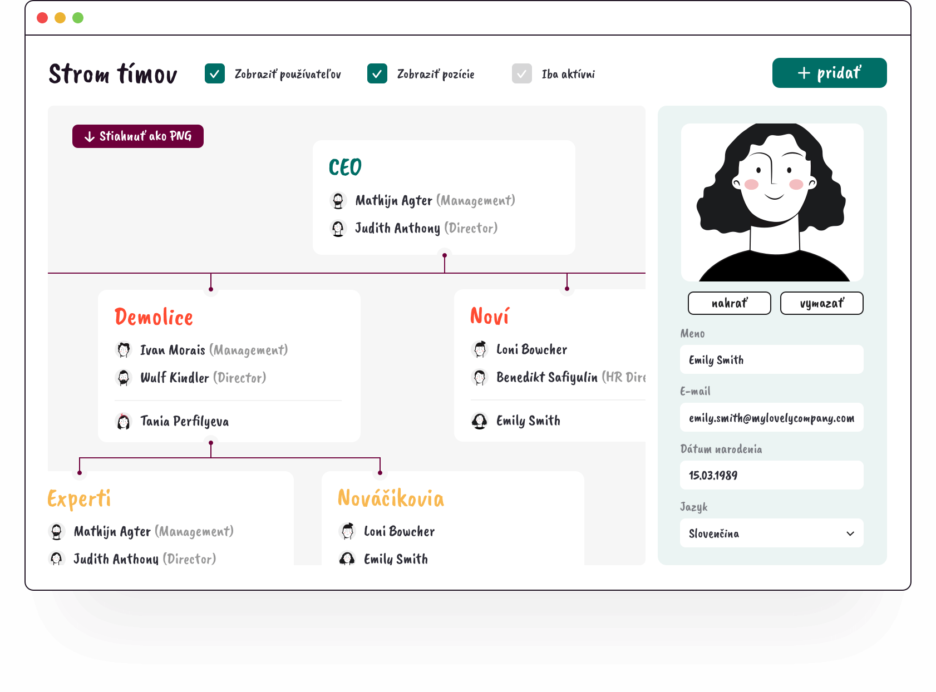 Čas
Získajte dokonalý prehľad o tom, ako dlho a na čom Vaši ľudia pracujú a kedy majú voľno.
Evidencia a schvaľovanie dovoleniek, absencií, dochádzky.
Time tracking s možnosťou rozdelenia činností do projektov a čiastkových rozpočtov.
Pracovné doby s ohľadom na víkendy, štátne sviatky a individuálne nastavenie zamestnancov.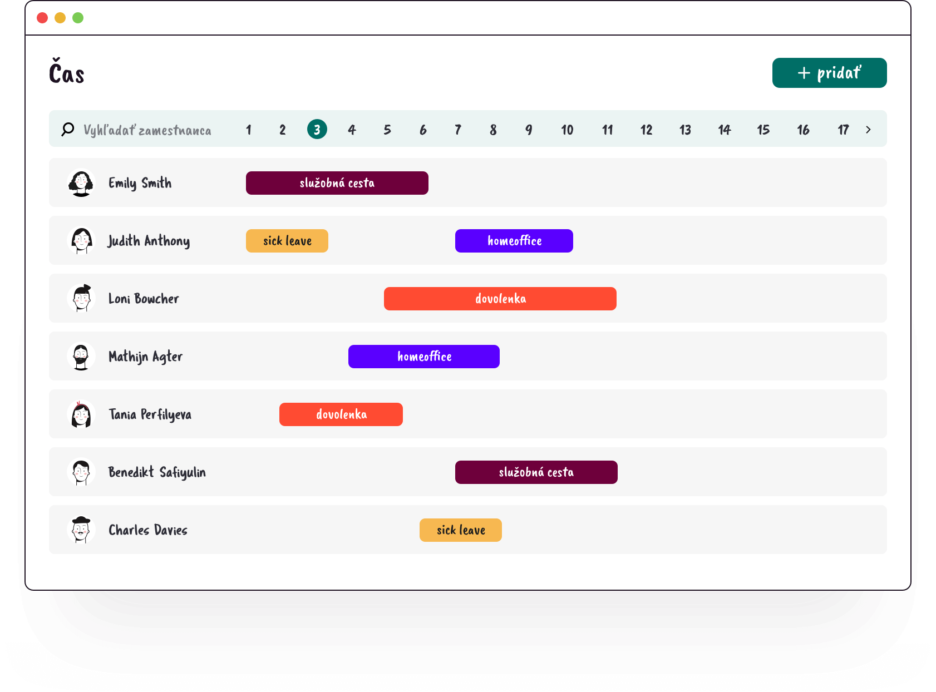 Operatíva
Elektronická evidencia všetkého podstatného, čo sa vo Vašej firme deje.
Podpisovanie zmlúv s elektronickou knihovňou dokumentov.
Evidencia a workflow odovzdávania pracovných pomôcok.
Elektronická schránka dôvery.