Hladký pohyb dokumentov, nástrojov a údajov
Uchovávajte elektronický záznam všetkých dôležitých udalostí, ktoré ovplyvňujú personálne operácie vašej spoločnosti.
Zmluvy, drobný majetok, schránka dôvery, protokol o audite
14 dní zadarmo
Bez kreditnej karty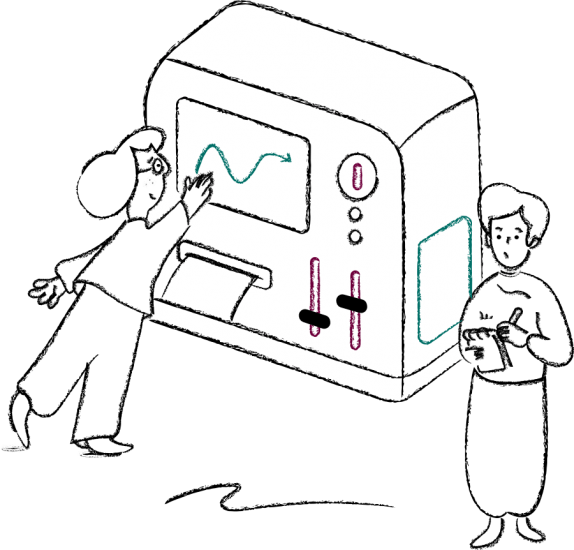 Dokončite svoju registráciu ZDARMA
Výhody registrácie
Nie je potrebné vkladať kreditnú kartu
14 dní ZDARMA a potom sa môžete rozhodnúť
7 z 10 používateľov sa rozhodlo pre Sloneeka
30 minút a základné nastavenie je pripravené
Overené recenzie s hodnotením 4,6 z 5
Verified Reviewer
2021-10-17
Our experience with Sloneek We've been using the Absence module since January this year, our overall experience is very good. Sloneek team makes frequent updates/upgrades adding new features based on clients' inputs. Sloneek's customer service reacts promptly to our queries. ☺Sloneek is a very user friendly application. The data conversion went very smoothly and quickly. We were able to start using the Absence Module of Sloneek within few days. It is very intuitive, there was no need of training for the users. ☹Just a few features we find less practical, but overall no negative experience.
Useful software for small and middle size companies ☺I love the customer oriented approach of Sloneek team. The implementation of software is easy and support is extra friendly - anytime we need to improve or change anything, we always get fast and proactive answer. System is easy to use, no long trainigs for employees needed. Sloneek is my favourite supplier, I always feel as a client. ☹Few times we experienced small bugs... but they were always fixed fast.
Sloneek is a modern HR system with a kind and reliable support team. Sloneek and us got along pretty nicely, and even though we sometimes get cofused and need to solve a problems that come along, we like it. ☺We can realistically see and evaluate the employee attendance, including their absences. We have achieved a uniform register of assigned work assets. Employees appreciate the organisational structure and basic data about their colleagues as well as the easy way to apply/approve absence time. ☹Once in a while, we come across bugs that get us confused.
Pros and cons of the system ☺We use Sloneek for tracking time off and other absences and it works perfectly for us. The application is online, intuitive and easy to use. Customer support is really fast. We are planning to implement additional modules soon. I would recommend this software to anyone looking for easy to implement and use software. ☹I find the software to provide us with all the features I would expect from such software so I dont see any cons of the software at the moment.
User-friendly and easy to implement ☺It is super easy to implement with many special features that are "cool" add ons. The feature of administering vacations for all employees is amazing and helps to keep a track of what is going on with absences in the company. They offer great customer support ☹We miss implementation to Outlook and some of the features are hard to adjust to our needs as it is "one size fits all"
Easy nad helpful Easy to use and quick problem solving. ☺Easy integration, users friendly, many features. Updates reacting to current company needs and problems. ☹When we start using Slonnek couple years ago there were frequent updates, so it was little bit confusing.
Review for Sloneek Finally we have all our document in one online database! ☺I personally do not have the experience with an integration into our processes but currently I appreciate the most about the software that it is really user friendly, support for customers is really extraordinary, always fast and helpful. I really enjoy that most of the features are clear to me and if not, there is a chat and person ready to help! ☹There is one small thing, I would appreciate if the capacity of the software for uploading new documents is bigger. (Documents with more pages cannot be uploaded and we have to make them smaller in another software which takes additional time.)
Sloneek is a big help when it comes to HR management. Sloneek is fun. Being in HR, we always appreciate fast, structured and nice communication of Sloneek team. Our insights, comments and feedback on some functionalities are always accepted by Sloneek as a challenge or stimulus for improvement. Sloneek and us got along nicely, and even though we sometimes complain, we like it ☺We mostly appreciate the fact that this system puts together attendance, asset management and guidelines. Colleagues are able to see the org chart and other colleagues' contacts. System is user friendly and easy to navigate. ☹We like everything because we have the ability to use only the modules that we want. We pay for each module separately and that is a big advantage.
Useful for mid-size business Overall I am happy with Sloneek product and the customer service, they respond to our queries quickly and are very willing to help. They are able to tailor features to our company needs and personalise their service. ☺Our employees find Sloneek intuitive and simple to use. The video and screen shot instructions are helpful. We use the attendance and absence recording feature and reports, which are most impactful in my job as HR specialist. We use the "on call" and "overtime" tracking feature from Sloneek in conjunction with other systems and although it took a some time to integrate with API, it now works really well and we are pleased with the system. ☹When I set up a new absence - such as an offsite team building course I have to approve each person's absence from the office and attendance to the course individually rather than being able to create a group and apply features (such as team leader approval) to this group. This is hard work if we have an event for the whole company - up to 100 employees!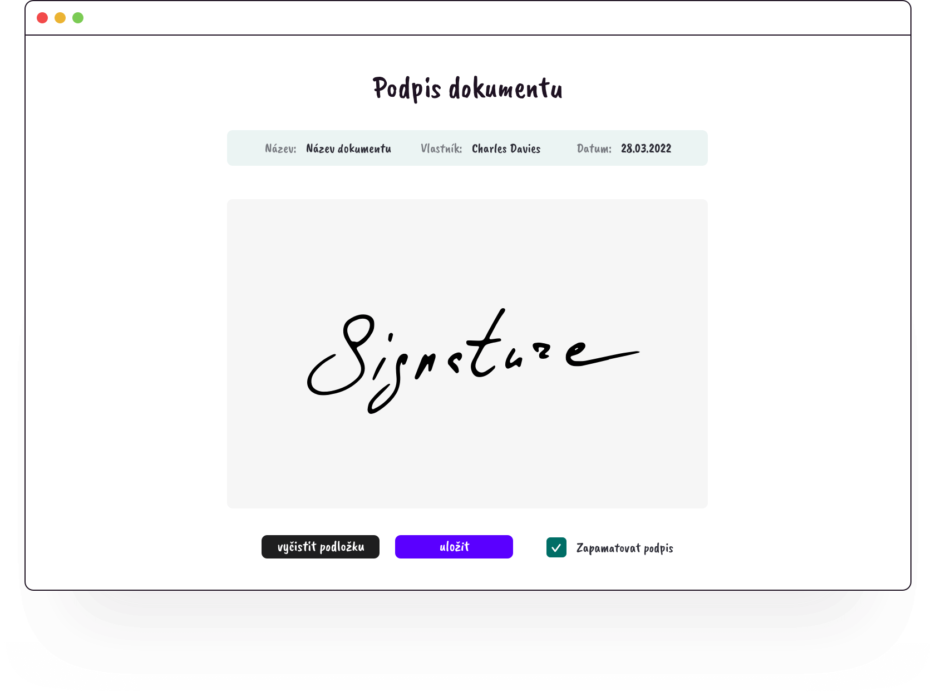 Zmluvy a dokumenty
Online knižnica firemných dokumentov s možnosťou ich priradenia konkrétnym používateľom, potvrdením o prečítaní a elektronickým podpisom.
Podpisovanie zmlúv (eIDAS)

Právne vynútiteľné podpisovanie elektronických dokumentov.


Celopodnikové dokumenty

Ľahko dostupné záväzné dokumenty, s ktorými by mali byť oboznámení všetci zamestnanci.

Priečinok osobných dokumentov

Bezpečné ukladanie citlivých dokumentov zamestnancov.

Potvrdenie čítania

Uistenie, že dôležitým interným dokumentom bude venovaná náležitá pozornosť.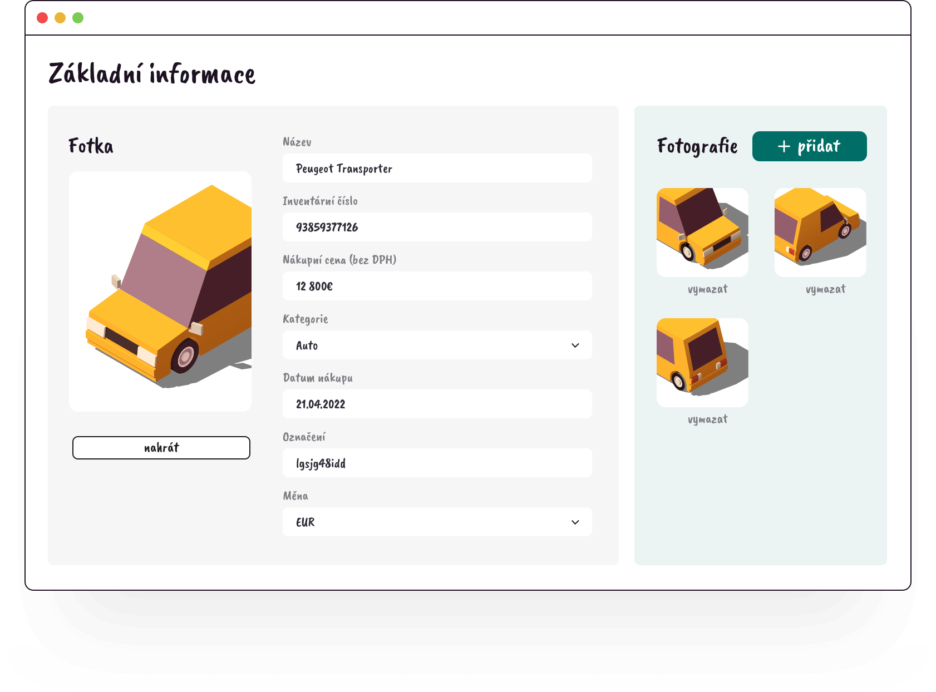 Pracovné pomôcky
Presná evidencia pracovných nástrojov a iného drobného majetku, ktorý ste zverili svojim zamestnancom.
Prehľad pomôcok

Manažéri a zamestnanci presne vedia, čo budú musieť jedného dňa vrátiť.

Pracovný postup prenosu

Prijatie pomôcky potvrdí zamestnanec podpisom pripraveným v systéme eIDAS.


Pomôcky pre históriu

Každá pomôcka má históriu od nadobudnutia až po zrušenie registrácie.

Import údajov

Widgety možno jednoducho importovať z tabuľky programu Excel.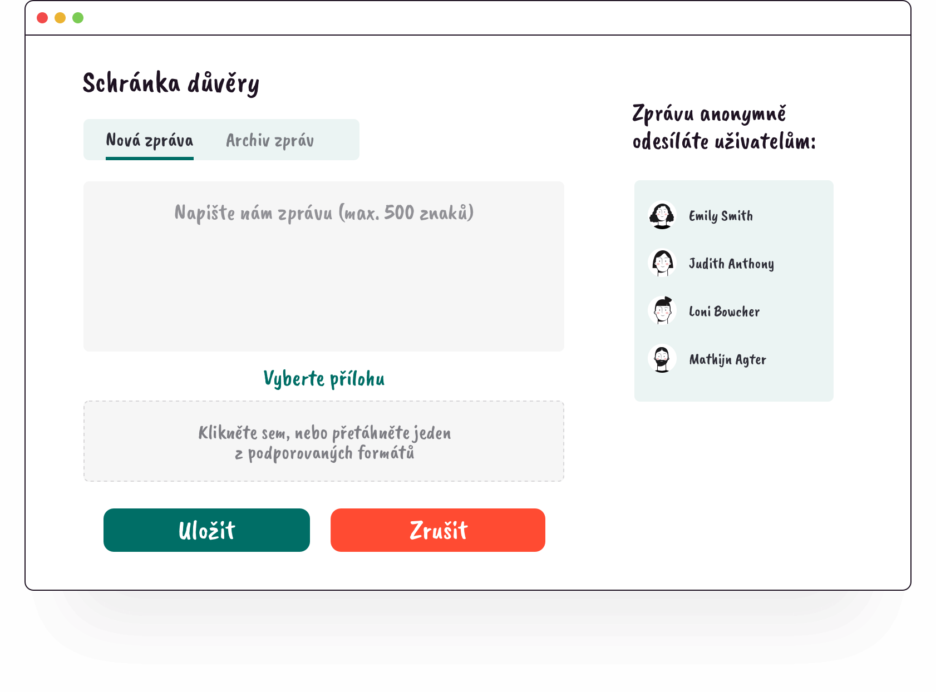 Schránka dôvery
Elektronický, plne anonymný nástroj na nahlasovanie závažných situácií v spoločnosti je plne v súlade s právnymi predpismi o whistleblowingu.
100 % anonymné podanie

Zaručujeme absolútnu anonymitu odosielateľa správy.

Transparentní príjemcovia

Pred odoslaním môže odosielateľ zistiť, kto dostane jeho správu.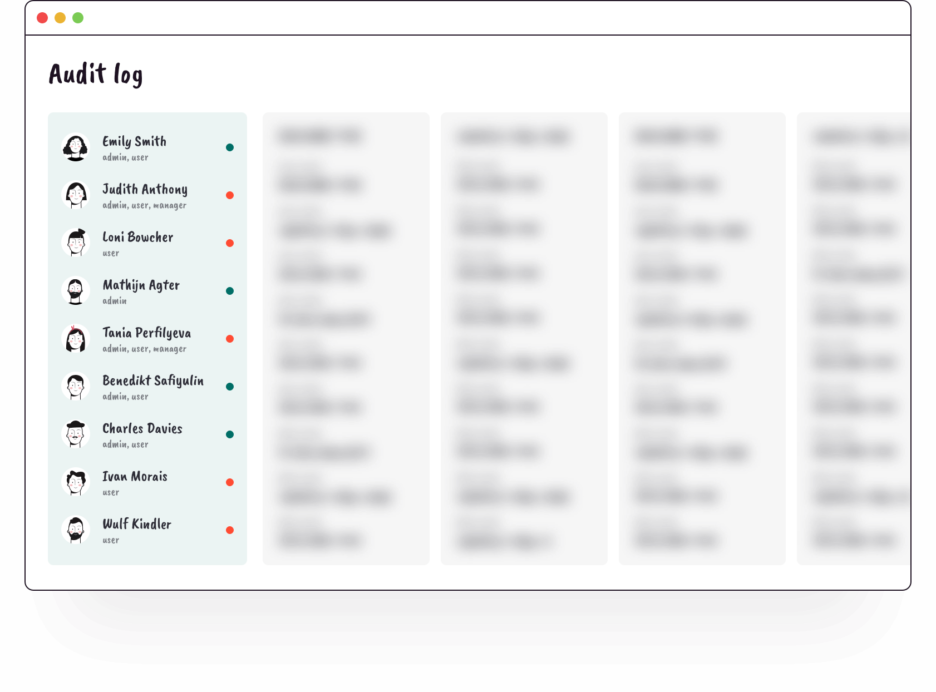 Denník auditu
Kompletné záznamy o každej operácii, ktorá sa v aplikácii vykonala. Prístup ku kompletnému protokolu auditu majú len správcovia aplikácie.
Filtre

Rýchlo filtrujte len operácie, ktoré chcete preskúmať.

Vývoz

Údaje možno pohodlne exportovať do súborov CSV a Excel.

Vyhľadávanie

Vyhľadávať môžete len operácie konkrétneho používateľa alebo skupiny.

Nezmeniteľnosť

Protokol auditu nie je možné vymazať ani zmeniť.
Jeden zdroj informácií pre všetkých používateľov.
Digitalizácia dokumentov a procesov zjednoduší život vašej spoločnosti.
Pre odborníkov v oblasti ľudských zdrojov
Digitalizácia agendy
Presuňte svoj papierový zakladač do cloudu.
Pre právne oddelenie
Digitálny archív zmlúv
Získate rýchly prístup ku všetkým zmluvám.
Pre zamestnancov
Všetko po ruke
Budete mať prehľad o zverenom pracovnom vybavení.
Vyskúšajte Sloneeka ešte dnes!